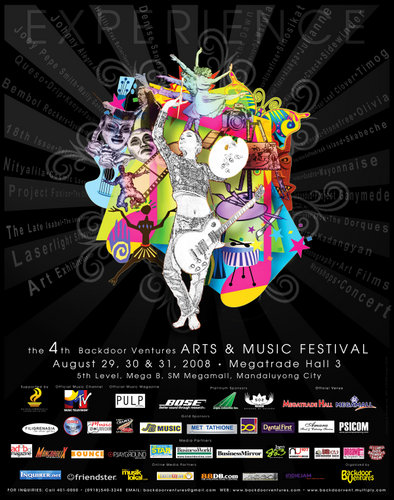 Start: Aug 29, '08 10:00am
End: Aug 31, '08 9:00pm
Location: SM Megamall Megatrade Hall 3, Mandaluyong City
Entrance Fee: PhP100.00, PhP80.00 (Student Discount), Buy 4 get 1 (Group Discount).
Avalon.ph will participate as an exhibitor, primarily of Moleskine Notebooks and Arts, Poetry & Music related books.
Now on its 4th year, the BACKDOOR VENTURES ARTS & MUSIC FESTIVAL takes it a notch higher yet again to deliver exactly what its growing and diversifying audience looks forward to – a grander lineup of performances, more exceptional artworks, and an extensive array of workshops & symposia catering to art enthusiasts of all ages. Guests can expect an even more enjoyable trade fair experience with the splendid listing of concessionaires and participating institutions.
List of Participants: Museo Pambata, NCCA, MET Museum, Bose, Pulp, JB Music, Adobo Magazine, PSICOM, Mangaholix, Playground, Shirley Halili Cruz, Filigrenasia, Mini-Me, Musik Lokal, Glass House Graphics, Science of Sounds, Dakila PHils. Project Ganymede, Romancing Venus and many others.
List of Activities: Makiling Center for the Arts (Denise Santos Huang), Miko Pepito (Spoken Word), Art/Short Film Showing (Khavn dela Cruz), Arts & Crafts Workshop (Museo Pambata), Laser Light Show (Argon Animation), Comics & Illustration Talk (Glass House Graphics), Romancing Venus (Poetry/Spoken Word), Michael Alba Drum Clinic, Cosplay, Art Workshop (Saturday Group), Fine Art Photography (Talk/Seminar by Wawi Navarroza), Teatro Flamenco, Halili-Cruz Ballet and many others.
List of Performers: The Dawn, The Chongkeys, FMD, Quadro, DJ Impulse, Mayonnaise, Bembol Rockers, Decay Transit, Scarlet Tears, Julianne, Project Fusion, Coffeebreak Island, Joey Pepe Smith & Wally Gonzalez, Sinosikat, Cosmic Love, Bahaghari, The Late Isabel and many others.
Schedule and Performers subject to change without prior notice.
For more information please check out: http://backdoorvent.multiply.com/