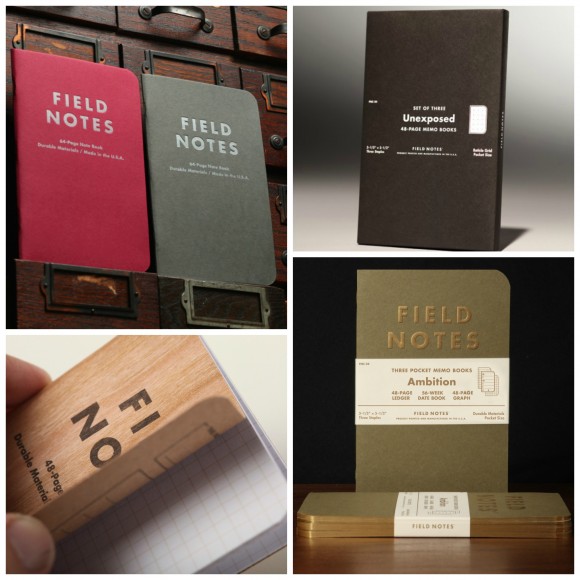 The Field Notes 2014 limited editions are now available for purchase on our website. Take this opportunity to grab hold of the following:
Field Notes Shelterwood, Spring 2014
Field Notes Arts and Sciences, Summer 2014
Field Notes Unexposed, Fall 2014
Field Notes Ambition, Winter 2014
and
---
FIELD NOTES WINTER 2014 EDITION: AMBITION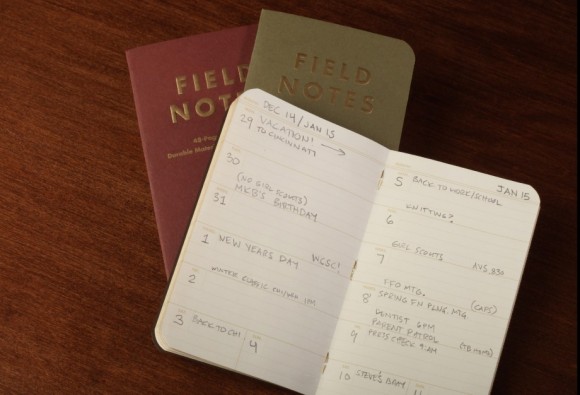 From Field Notes: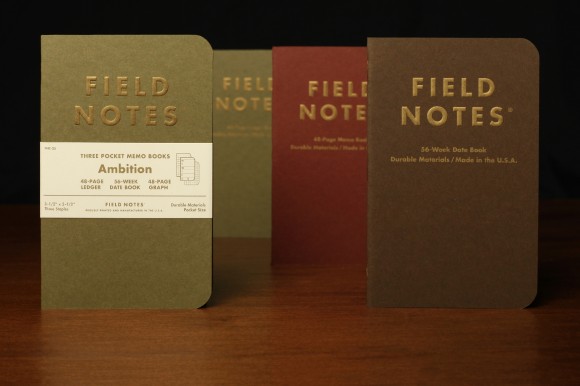 Our old friends French Paper Co. of Niles, Michigan supplied "Olive," "Wine," and "Chocolate" 100# Speckletone for the covers, with production bouncing around the Midwest for the last few weeks. Printing started in Chicago's suburbs at eDoc, then the covers were delivered to Nu Wave Diecutting & Finishing in downtown Chicago to emboss the cover logo. After a trip back to eDoc for bindery, they were trucked down to Liberty Book and Bible in Indianapolis for a process nearly as old as bookbinding, but all-new to us!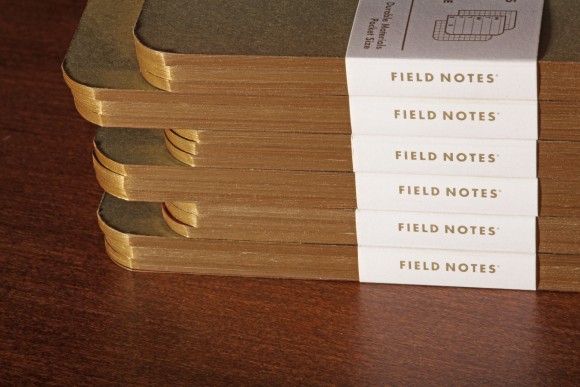 Gilding is an ancient technique once performed by artisans with gold leaf, mallets, and secret mixtures of binding paste. A century or so ago the process was mechanized, but it's still ridiculously complex. The books are clamped into small batches, then make three passes (once for each edge) through an Ochsner edge gilder, which sands the edges smooth with varying grits of sandpaper, then fuses metallic foil to the edge with heat. It was certainly the strangest piece of printing machinery we'd seen, until a few minutes later when we saw a pair of Ochsner round-corner gilding machines in action.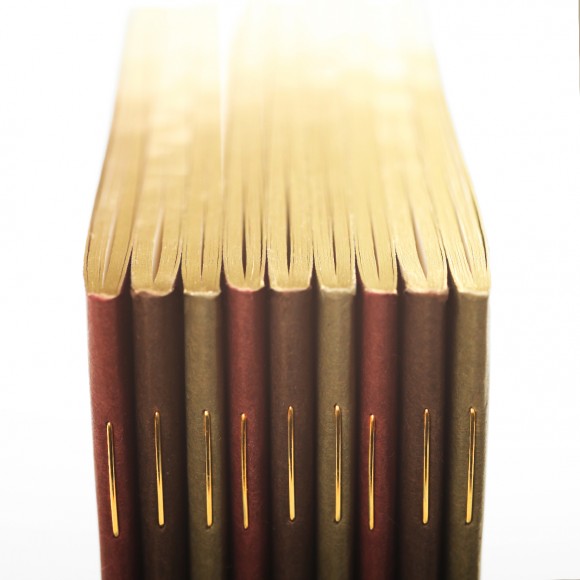 But that's not the only FIELD NOTES first in this edition. The "Olive" book is ruled in ledger lines (which you may remember from FNC-16, "Traveling Salesman"), and the "Wine" book is graph paper, but the "Chocolate" book features 56 pages ruled in a weekly datebook format! The body paper is Cougar Opaque 50# "Natural White" text-weight vellum printed in "Double Knee Duck Canvas" ink. With all that gold going on, gold staples were the obvious choice to hold the books together.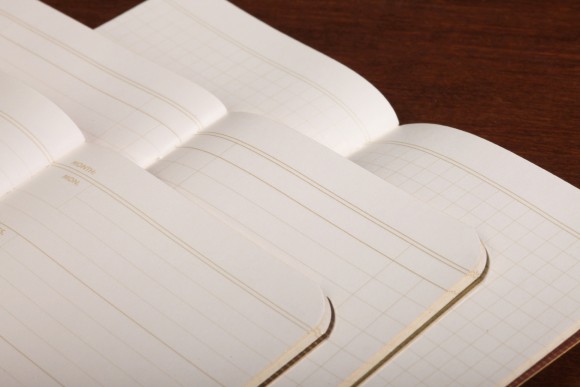 With a datebook, ledger, and memo book in hand, projects of any scope become more manageable. And we bet the elegant gilded edges will help get you out of bed a bit earlier and start getting things done. All that's standing between you and your goals are a whole bunch of notes, facts, lists, and figures, and now you have the perfect place to write it all down.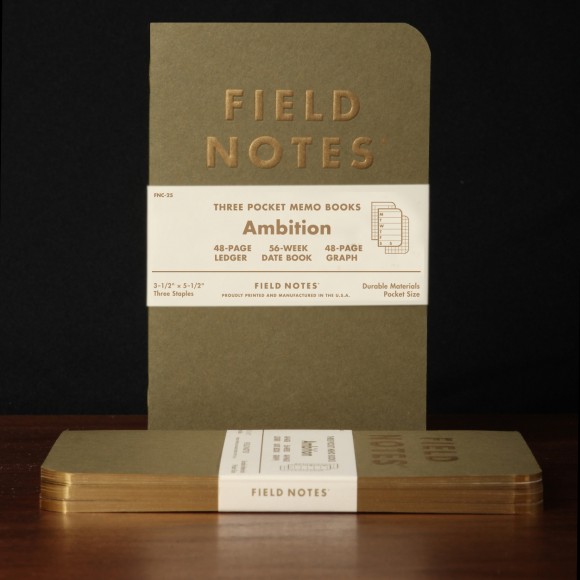 Field Notes Ambition Edition is available for purchase here!
---
FIELD NOTES FALL 2014 EDITION: UNEXPOSED
Here's what we can tell you: each "Unexposed" pack features three 5.5-inch x 3.5-inch 48-page memo books in an opaque black sleeve. The interior paper features our "reticle graph," last seen in the "Night Sky" Edition from Summer 2013.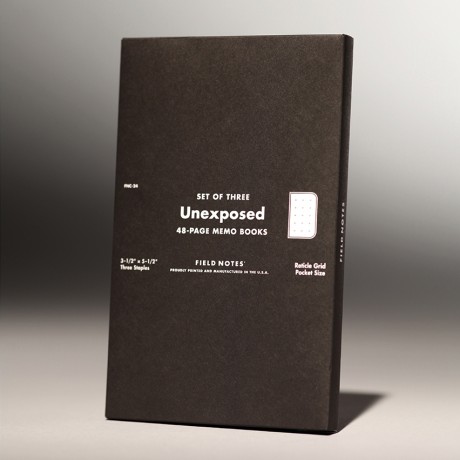 We won't ruin the surprise by giving away any more than that, except to say that each pack contains three of the six memo books that make up this edition. So, there are 20 different possible combinations. Which combination you receive is left up to chance. You don't know what you'll get, and neither do we! But we're confident you'll enjoy them
Note: you can have an idea what you'll get inside simply google "field notes unexposed" and click on the google images bar. Do at your own risk of ruining the surprise!
Field Notes Unexposed edition available for purchase here.
---

FIELD NOTES SUMMER 2014: ARTS AND SCIENCES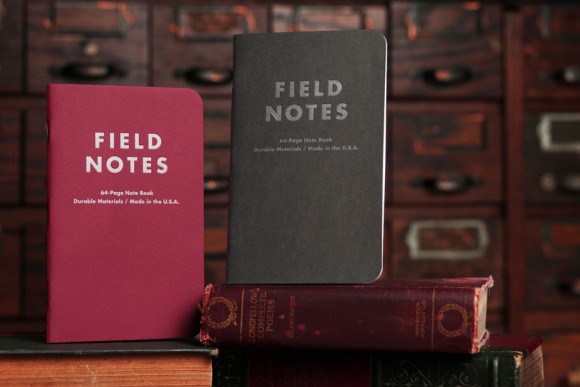 From Field Notes:
Our 23rd COLORS release introduces a brand-new, larger FIELD NOTES format for Summer 2014. We've created a limited-edition 2-Pack of 7.5-inch by 4.75-inch "Note Books," big enough to accommodate ideas from both sides of your brain. Both books feature sturdy Mohawk Loop 110-lb covers with silver ink and debossed logos, with 64 pages of Finch Opaque 50-lb text paper inside.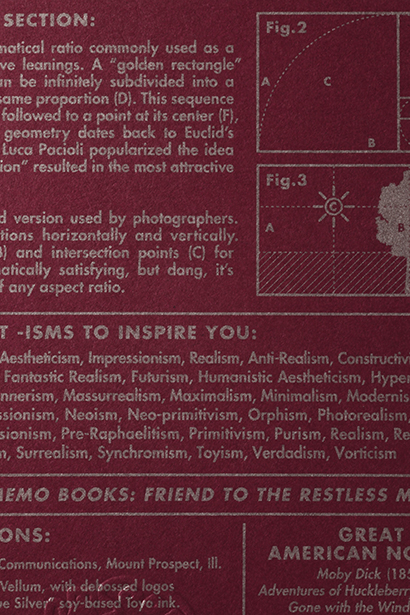 The "Arts" Note Book is designated for creative musings, featuring a wine-colored cover containing a wealth of handy information for writers and fine artists. Its 64 interior pages are quarter-inch ruled in "Academy Gray" for prose and poetry on the right-hand ("recto") side, and blank on the left-hand ("verso") side for sketches, scribbles, and sentence diagrams.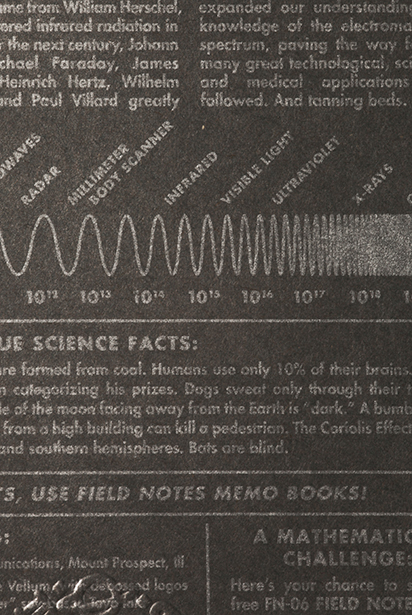 "Sciences" sports a dark slate gray cover loaded with the formulas, theories, and ideas you need to get you through your day. The recto pages feature an all-new "Engineer's Graph" subdivided into one-inch, half-inch, and tenth-inch squares in "Academy Gray." As with "Arts," the "verso" side of the sheet is blank, awaiting your diagrams, calculations, and observations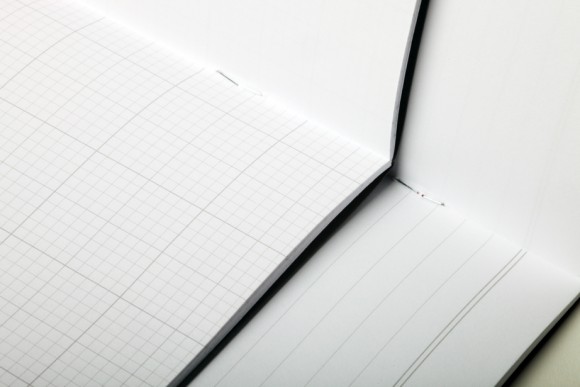 Field Notes Arts and Sciences edition available for purchase here.
---
FIELD NOTES SPRING 2014: SHELTERWOOD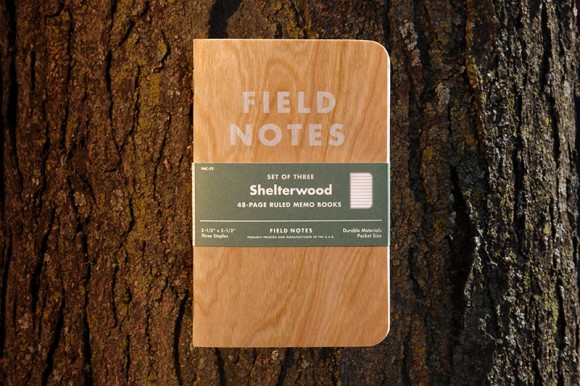 From Field Notes:
We all know that paper is made from wood. Our 22nd FIELD NOTES COLORS seasonal release is made OF wood. The "Shelterwood" edition features covers made from actual American Cherry wood, sliced ever-so-thin and bonded to a substrate of kraft paper for durability. We believe we're the first notebook company to manufacture such a product at such a scale.
Thanks to the natural texture of the wood, no two "Shelterwood" memo books are the same but all share their origin in the same few hand-picked cherry trees from Northern Illinois and Southern Wisconsin. The wood covers are sustainably produced, with just a few 60? logs converted into 5000 feet of "Sheer Veneer," with very little waste (the waste is recycled into wood pellets to heat the factory!). The process can be seen in the film above.
The covers are left uncoated with text printed in a triple-hit of "Ghostflower White" which remains slightly opaque, the wood texture showing through like a faded whitewashed fence. Inside covers are mossy green text on kraft paper. The guts of the books are Finch Fine "Soft White" 70# text stock, the same beefy stock you loved in our "America the Beautiful" Edition. They're ruled in "Maidenhair Green," and bound together with three sturdy gold staples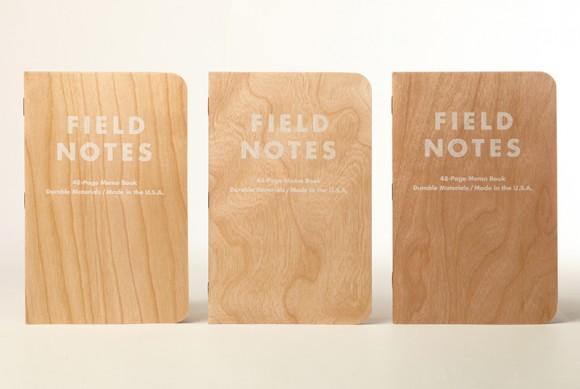 We've lost track of how many times we crossed the IL/WI border, at all hours, through one of the worst winters on record to bring you this edition and its accompanying film. We've also lost track of all the bratwurst, cheese, and craft beer we've smuggled back into Illinois. No one's happier to see spring arrive (the season and the notebooks!) than we are. We're happy to say it was all worth it, and we think you'll be as excited by these notebooks as we are.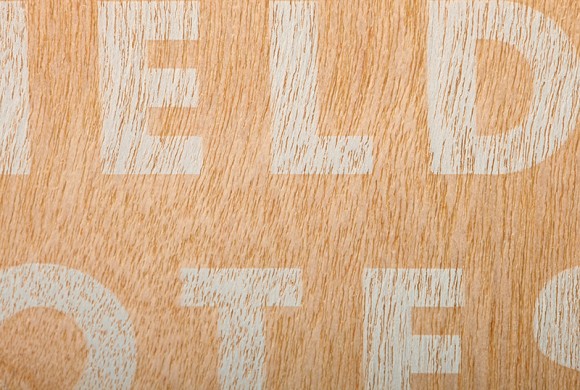 Field Notes Shelterwood edition available for purchase here
---
FIELD NOTES CHERRY GRAPH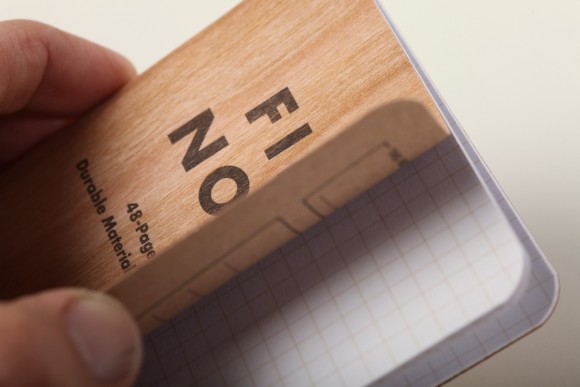 Field Notes Cherry Graph non-limited edition. "Cherry Graph" features real cherry wood covers, like our sold-out Spring 2014 Shelterwood Edition, but now with black text, filled with 48 pages of our tried-and true Finch Opaque Smooth 50#T with 48 pages of 3/16" graph paper inside.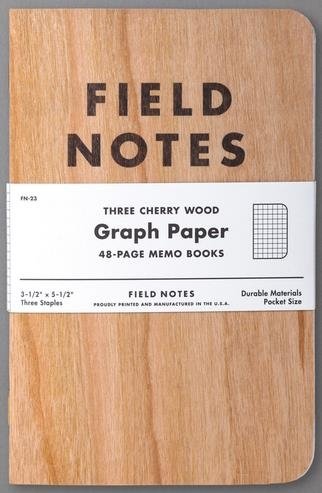 Field Notes Cherry Graph edition is available for purchase here.