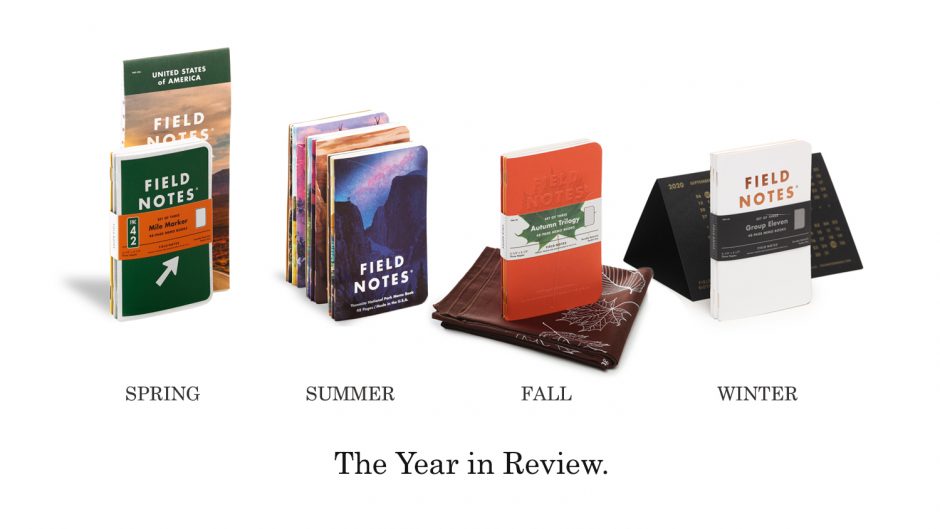 Note: Retail editions (items we sell on our website) does not include the subscription edition items in the image above like the map, bandana, and the foldable calendar.
Field Notes Mile Marker, Spring 2019
Dot-Graph Paper 3½" × 5½" 48 Pages
With a bold, simple iconic design, this 3-Pack of Memo Books gets right to the heart of Field Notes. Practical American design with a sense of history and familiarity is what we're all about.
Field Notes Summer: National Parks (A, B, C, D)
Graph Paper 3½" × 5½" 48 Pages
Gorgeous illustrations of iconic National Parks are featured on the covers of these Memo Books, which are grouped into 3-Packs that make up the "National Parks" Series. Choose your favorite 3-Pack, or collect them all.
Note: Currently Park Series "E" not available.
Field Notes Fall: Autumn Trilogy
Ruled Paper 3½" × 5½" 48 Pages
Impressions of the Season. Subtle debossed leaves and embossed logo; three beautiful cover papers from Mohawk's Via line: "Warm Red," "Safety Yellow," and "Scarlet," all with a vellum finish. Field Notes series most complicated process yet!
Field Notes Winter: Group Eleven
Dot-Graph Paper 3½" × 5½" 48 Pages
This Field Notes Quarterly limited edition gets its name from the position of the elements copper, silver, and gold in the Periodic Table. "Group Eleven" features three standard Dot-Graph Memo Books.