Hi all,
Strongly recommending this book for the new college graduate: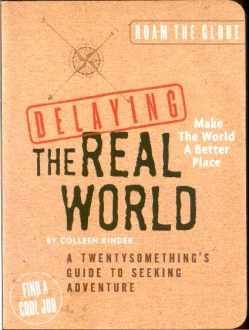 Delaying the Real World: Make the World a Better Place.. For the new college graduate who's not quite ready to join the ranks of the entry-level, here's a guide to help them "think outside the cubicle" as it presents a wide range of job and travel opportunities for the free-spirited twentysomething who yearns to create a long- or short-term adventure.
Fiction:
Savage Tales of Solomon Kane, The by Robert Howard (Conan)
13 Phantasms & Other Stories by James P. Blaylock
Road, The by Cormac McCarthy
Mammoth Book of Vampires, The (New Edition 2004)
Mammoth Book of Vintage Science Fiction, The: Short Novel of the 1950s
Mammoth Book of Best New Horror (2002, Ligotti Link Hand)
Mammoth Book of Egyptian Whodunnits (Historical Mystery)
Ghosts in Baker Street: New Tales of Sherlock Holmes
Specials by Scott Westerfeld (Uglies trilogy, Advance Copy)
History of Love, The by Nicole Krauss
Foucault's Pendulum by Umberto Eco (Hardbound BCE)
Watch Your Mouth by Daniel Handler (Lemony Snicket)
Princess Diaries, The by Meg Cabot (Hardbound)
Paris Review Book for Planes, Trains.. Waiting Rooms.., The
Howl: Original Draft Facsimile… by Allen Ginsberg
Stranger, The by Albert Camus
Villains United (Countdown to Infinite Crisis, TPB)
Non-Fiction:
Reef Fishes, Corals & Invertebrates of the Philippines
Diving & Snorkeling: Philippines (Lonely Planet 2002)
99 More Unuseless Japanese Inventions by Kenji Kawakami
Strange Matters: Undiscovered Ideas at the…
Buddha by Karen Armstrong (Hardbound)
Perfectly Reasonable Deviations: Letters of Richard Feynman
Can a Guy Get Pregnant? (Scientific Answers to Everyday HB)
How to Dunk a Doughnut: The Science of Everyday Life
The Book of Ages – 30 (Hardbound, gift)
Selfish Gene, The by Richard Dawkins (1989)
A Brief History of Secret Societies (2007)
Best Food Writing 2000 (Nigella Lawson, Steingarten, etc)
Witchcraft, Magic & Alchemy by Grillot de Givry
Dirty Little Secrets of World War II: Military Information..
C.S. Lewis: on Faith (Hardbound)
Wabi-Sabi: for Artists, Designers Poets & Philosophers
Unusually Stupid Americans: A Compendium of All-American..
Vampire Book, The: Encyclopedia of the Undead (1999)
Thanks!
Jasper
www.avalon.ph