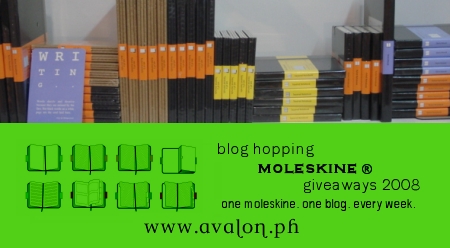 Avalon.ph Blog Hopping Moleskine Giveaways is a promotion between different participating sites.  Visit each site during their contest period to determine their contest mechanics and to find out more information.  These are all great sites even without the contest so I encourage you to blog hop now and discover new blogs!
Don't miss out this unique blog contest series – and yes, you get multiple chances of winning!  Click the links below during their contest period to join.
22 Oct – 29 Oct www.wifelysteps.com – Wifely Steps
29 Oct – 03 Nov anothermiyaw.livejournal.com – infinity less than three
04 Nov – 10 Nov kikay.exchange.ph – kikay exchange
11 Nov – 18 Nov www.abuggedlife.com – a Bugged Life
18 Nov – 21 Nov www.viloria.net – Article Marketing at Viloria.net
22 Nov – 26 Nov katkatkatkat.blogspot.com – strangely out of place
26 Nov – 01 Dec 35664.multiply.com – down a notch
01 Dec – 08 Dec www.the-parody.com – The Parody
08 Dec – 15 Dec www.pinoycentric.com – PinoyCentric
12 Dec – 19 Dec blog.avalon.ph – Avalon.ph Blog
Schedule and participating blogs are subject to change.  Keep visiting this site for details.
It is recommended you subscribe to their RSS feeds to guarantee that you don't miss any details about their individual contests.
Check out the kickoff contest happening now at www.wifelysteps.com!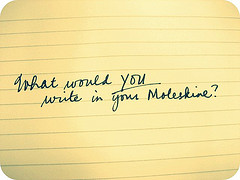 Good luck to everyone!