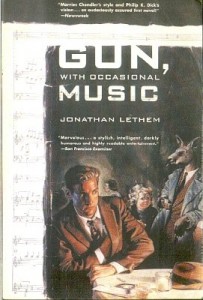 New Books Posted (www.avalon.ph):
Fiction:
The Djinn in the Nightingale's Eye: Five Fairy Stories by A.S. Byatt (HB)
Starship Troopers by Robert Heinlein
A Handbook of American Prayer by Lucius Shepard (HB)
Gun, with Occasional Music by Jonathan Lethem
The Reader by Bernhard Schlink
Wicked: The Life & Times of the Wicked Witch of the West by Gregory Maguire
Confessions of an Ugly Stepsister by Gregory Maguire
The Princess Bride by William Goldman
The Mammoth Book of Best New Horror (2004, Vol. 15)
The Mammoth Book of Best New Horror (2007, Vol. 18)
Best Lesbian Erotica 1999 (Edited by Tristan Taormino)
Fahrenheit 451 by Ray Bradbury
Swapping Lives by Jane Green
Vanishing Acts (Edited by Ellen Datlow)
Charlie Chan is Dead 2: A Home in the World (Edited by Jessica Hagedorn)
Amrita by Banana Yoshimoto
If on a winter's night a traveler by Italo Calvino
The Best American Poetry 1994 (A.R. Ammons)
Collected Poems by Paul Auster
New Poems (1968-1970) by Pablo Neruda
Non-Fiction:
Guns, Germs, and Steel: The Fates of Human Societies
Conquering Statistics: Numbers Without the Crunch
99 Red Balloons.. and 100 Other All Time Great One-Hit Wonders by Brent Mann
1,000 Places To See Before You Die: A Traveler's Life List
The Know-It-All: One Man's Humble Quest… by A.J. Jacobs
Why We Run: A Natural History by Bernd Heinrich
Larson's New Book of Cults by Bob Larson
The Secret Histories: An Anthology by John S. Friedman
The True Stella Awards: Honoring Real Cases of Greedy Opportunists…
What Am I Doing Here by Bruce Chatwin
The Practical Writer : From Inspiration to Publication by Therese Eiben
In Defense of Sin (Edited by John Portmann)
A Natural History of the Senses by Diane Ackerman
A Natural History of Love by Diane Ackerman
100 Great Problems of Elementary Mathematics
Dictionary of Theories: One stop to more than 5,000 theories
To Criticize the Critic & Other Writings by T.S. Eliot
The Pig That Wants to be Eaten: 100 Experiments for the Armchair Philosopher
The Little Book of Creativity: Great Ideas & How You Can Use Them
The Occult: A History by Colin Wilson
A Mathematician Plays the Stock Market by John Allen Paulos
Mathematics for the Million: How to Master the Magic of Numbers
Time Travel in Einstein's Universe: The Physical Possibilities of Travel Through Time
The Elegant Universe: Superstrings, Hidden Dimensions, and the Quest for the Ultimate Theory
Return of the Straight Dope by Cecil Adams
Wild Sex: Way Beyond the Birds and the Bees
For Auction:
The Science of God: The Convergence of Scientific & Biblical
J.R.R. Tolkien: The Silmarillion (Hardbound 1977)
The Arbor House Treasury of Horror and The Supernatural (1981)
Great Journeys of the World -National Geographic Destination
Franz Kafka: The Metamorphosis, Penal Colony & Other Stories
—————
Happy Shopping!
Jasper
www.avalon.ph