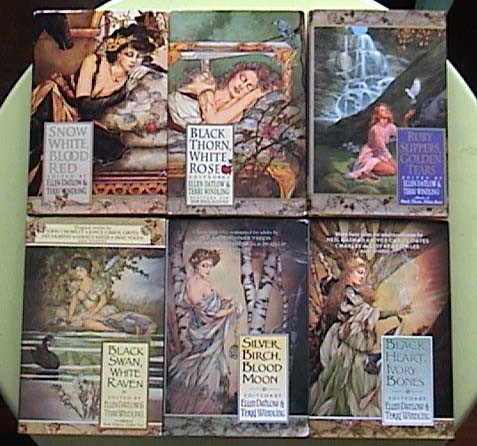 All hardbound. Probably the only complete set available for sale on Earth (/Internet).
Snow White, Blood Red (1993)
Black Thorn, White Rose (1994)
Ruby Slippers, Golden Tears (1995)
Black Swan, White Raven (1997)
Silver Birch, Blood Moon (1999)
Black Heart, Ivory Bones (2000)
Contributing authors: Neil Gaiman, Susanna Clarke, Tanith Lee, Jane Yolen, Nancy Kress, Gene Wolfe, Kathe Koja, Caitlin R. Kiernan, Roger Zelazny, and many more…
A jealous prince plots the destruction of his hated broter's wedding by inventing a "magic" suit of clothing visible only to the pure at heart…
A marvelous frog holds an astonishing secret, until a maiden's kiss reveals a terrible truth…
A troll-killing, princess-rescuing warrior is compelled to consider events from his adversaries' point of view…
A young girl's strange fairy tale obsession results in a brutal murder…
An embittered mother cares for her slowly dying son who is trapped in a thicket that guards a sleeping beauty…
A take on Rapunzel, which takes place in modern times, in the beauty-pageant circuit, yet follows the old story almost exactly.
A Sleeping Beauty retelling set in an alternate, magic-rich nineteenth-century England, and full of insight about the nature of "true love". Ends not happily, but perfectly.
"Snow in Summer" turns the tables on Snow White's evil stepmother with a deep-dish apple pie and a fry pan.
"Goldilocks Tells All" is especially memorable for its Jerry Springer-like portrayal of the ultimate dysfunctional family.
A seduced prince willingly and knowingly fell prey to a sensuous usurper's treachery…
A flesh-eating ogre gamboled in the footlights…
… and many more….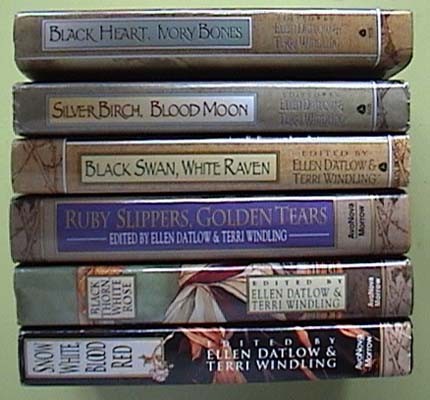 Erotic, compelling, witty, and altogether extraordinary, these stories lay bare our innermost demons and desires- imaginatively transforming our youthful fantasies into things darker, slyer and more delightfully subversive.
All hardbound, posted on our website here.