Quick sale of comic books. For inquiries please use this link, it is the most efficient way for us to read and reply to your messages. Please be considerate and immediately settle the transaction if you reserve/order.
Most images for reference only, some are actual images. Some may have price stickers/tags. "Overstock" description on some titles means they are basically like new except possibly some wear due to storage/transit.
Usually quick sale postings on this blog fly away fast so don't wait and order now.
Read some comic books today! Happy browsing!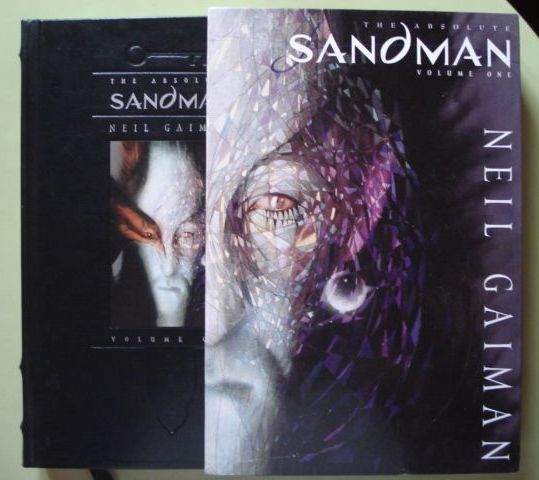 The Absolute Sandman, Vol. 1
by Neil Gaiman
Price: PhP3,000.00
Terms: pick-up only in Quezon City, shipping available but will cost extra.
Condition: Probably read a couple of times. Book itself very solid and clean. Slip-case is the issue with light scratches & bumps, nothing serious. Image shown actual copy.
THE SANDMAN, written by New York Times bestselling author Neil Gaiman, was the most acclaimed comic book title of the 1990s. A rich blend of modern myth and dark fantasy in which contemporary fiction, historical drama and legend are seamlessly interwoven, THE SANDMAN is also widely considered one of the most original and artistically ambitious series of the modern age. By the time it concluded in 1996, it had made significant contributions to the artistic maturity of comic books and become a pop culture phenomenon in its own right.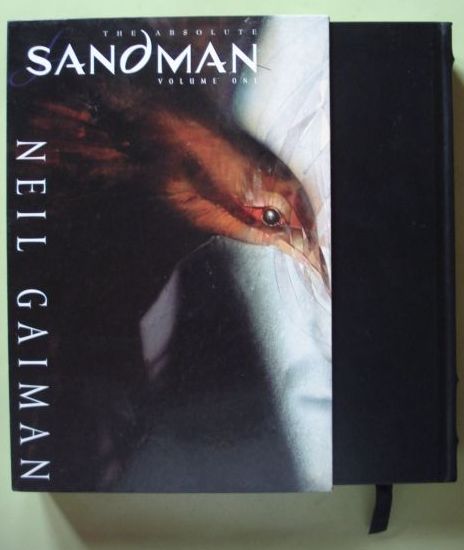 Now, DC Comics is proud to present this comics classic in an all-new Absolute Edition format. The first of four beautifully designed slipcased volumes, THE ABSOLUTE SANDMAN VOL. 1 collects issues 1-20 of The Sandman and features completely new coloring, approved by the author, on the first 18 issues, as well as a host of never-before-seen extra material, including the complete original Sandman Proposal, a gallery of character designs from Gaiman and the artists who originated the look of the Sandman, and the original script to the World Fantasy Award-winning THE SANDMAN #19, "A Midsummer Night's Dream," together with reproductions of the issue's original pencils by Charles Vess. Also included are a new introduction by DC's president Paul Levitz and a new afterword by Gaiman.
---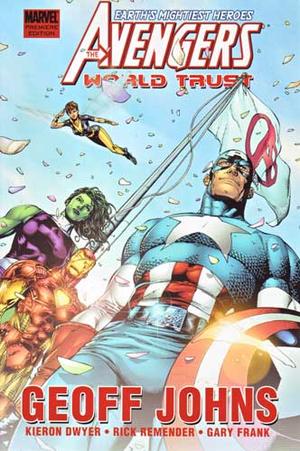 The Avengers: World Trust (Hardbound)
By Geoff Johns, Dwyer, Remender, Frank
Price: PhP400.00
Condition: Comics hardcover, originally unread overstock copy, minor shelf wear.
Together, they can defeat even the most powerful super-villain – but can the Avengers govern the world? They are Earth's Mightiest Heroes, united in their vow to protect the planet from those enemies against whom no single super hero can stand alone…and this may be their greatest challenge! The capital cities of every country on Earth have mysteriously vanished, throwing the globe into anarchy. In this time of extraordinary crisis, the nations of the world turn to the only organization capable of leading them through the ensuing strife and restoring political, economic, and social order: the Avengers. Collects Avengers (1998) #57-61.
---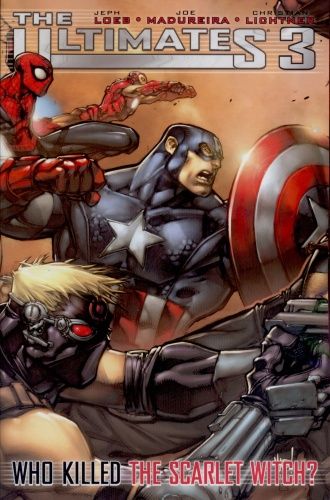 The Ultimates 3: Who Killed the Scarlet Witch?
By Jeph Loeb, Joe Madureira, Christian Lightner.
Price: PhP350.00
Condition: Comics trade paperback, originally unread overstock copy, minor shelf wear.
A year later, who are the Ultimates? After going through the tumultuous events of the past two volumes, the Ultimates find themselves operating out of Tony Stark's mansion in New York where, no longer working for S.H.I.E.L.D., they have to make it on their own. But a terrible secret is about to tear them apart and bring about a murder at the mansion! One of Earth's greatest heroes will die, and there'll be plenty of suspects! New Members! New Adventures! And New Secrets! All this, and Ultimate Venom, too! Join Eisner winner and Emmy-nominated writer Jeph Loeb (TV's Heroes, Fallen Son) and the superstar team of Joe Madureira and Christian Lichtner (Uncanny X-Men, Battle Chasers) as they take the Ultimates on their wildest ride yet! Collects Ultimates 3 #1-5.
---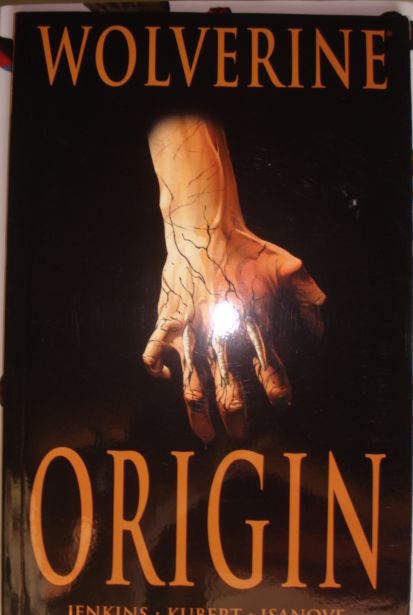 Wolverine: Origin
by Jenkins, Kubert, Isanove
Price: PhP450.00
Condition: Comics trade paperback, originally unread overstock copy, minor shelf wear.
Collecting Wolverine: Origin #1-6. Marvel's best-kept mutant mystery revealed! Before the X-Men, before Weapon X, Wolverine's struggle with his subconscious savagery first flourished in family tragedy. Some of Marvel's most acclaimed creators unite to tell the tale that shaped mutantdom's mightiest misfit.
---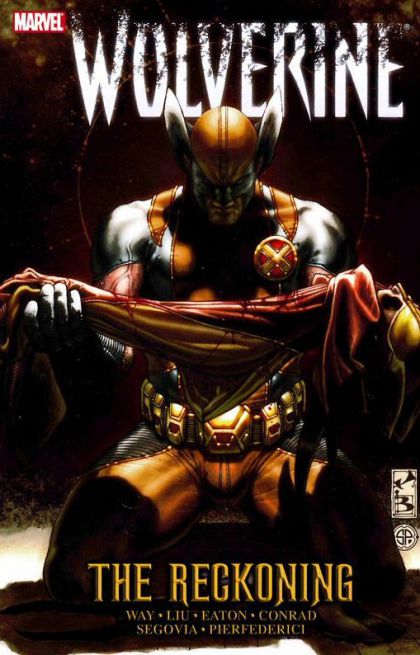 Wolverine: The Reckoning
By Way, Liu, Eaton, Conrad, Segovia, Pierfederici
Price: PhP350.00
Condition: Comics trade paperback, originally unread overstock copy, minor shelf wear.
Collecting Wolverine Origins #46-50, Dark Wolverine #85-87. His final confrontation with Romulus on the horizon, Wolverine reaches out to a friend to help him put to rest one of the greatest tragedies of his long life-the death of Mariko Yashida. Also, in one fell swoop, Daken plans to both destroy his father and achieve his destiny. The streets run red with blood as Daken faces off against Romulus!
---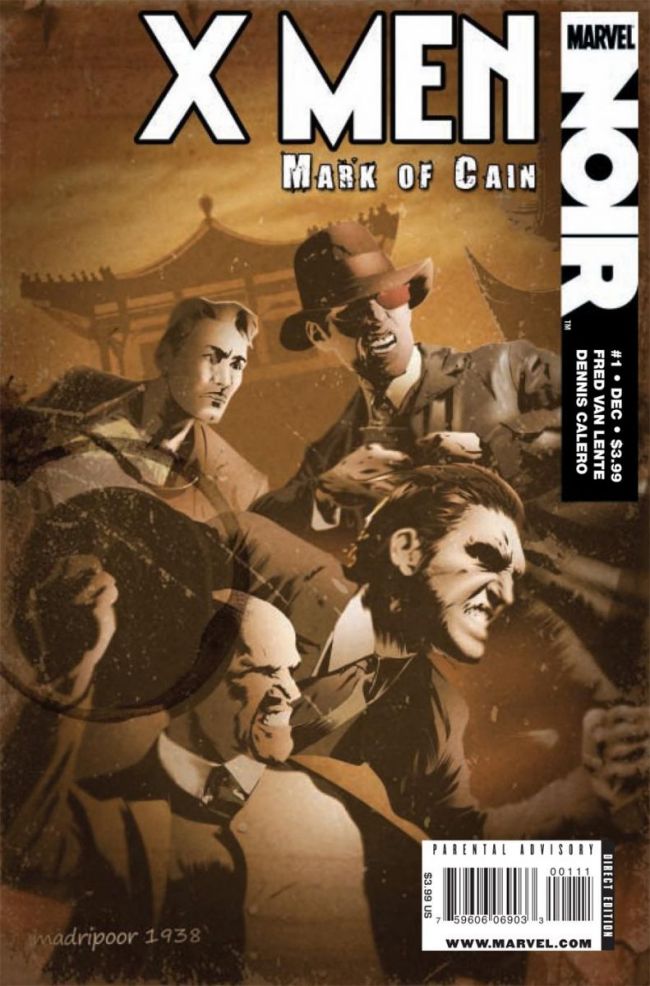 X-Men Noir: Mark of Cain
By Fred Van Lente, Dennis Calero
Price: PhP250.00
Condition: Comics trade paperback, originally unread overstock copy,  minor shelf wear.
Collecting X-Men Noir: Mark of Cain #1-4.
Buried deep in the jungles of Madripoor, under the temple of the Juggernaut, is a jewel sought by many: the Crimson Gem of Cyttorak.
But it's a team led by Logan, Cyclops and the Angel that will get to it first! Though once they claim the metaphysical power of the gem, how long will they be able to keep it? And what does the sinister Charles Xavier, leader of the gang of young sociopaths, the X-Men, have up his sleeve now that he's been released from Ryker's with Wanda Magnus by his side?
---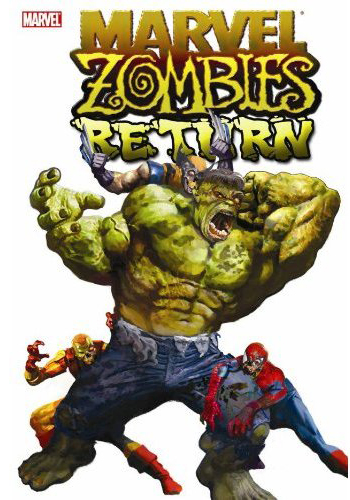 Marvel Zombies Return (Hardbound)
By Fred Van Lente, etc
Price: PhP450.00
Condition: Comics hardcover, originally unread overstock copy, minor shelf wear.
They're back! What happened to Spider-Man, Colonel America, Power Man, Giant-Man, and Wolverine at the end of Marvel Zombies 2? Where were they transported to… and, more importantly, when? A frightening five-part event shambles to life here, penned by resident (evil) Marvel Zombies 3 and 4 scribe Fred Van Lente and three of today's hottest novelists of zombie fiction! Collecting Marvel Zombies Return #1-5.
---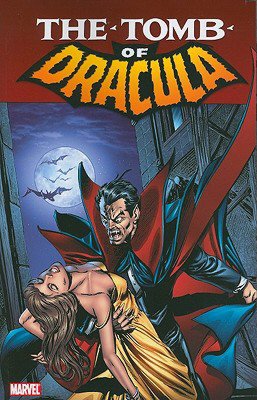 The Tomb of Dracula, Vol. 3
by Marv Wolfman, Chris Claremont, Gene Colan and more
Price: PhP400.00
Condition: Comics trade paperback, originally unread overstock copy, minor shelf wear.
Judge for yourself as the Lord of Darkness battles mad science and madder magic! His wars with both Quincy Harker and Doctor Sun continue, but how can either Dracula or Sun rule the world if the demon Y'Garon destroys it? Plus: more flashbacks from across Dracula's life and death, including his first meeting with Blade's Vampire Hunters! Also featuring the first appearance of Hannibal King, vampire detective!
Collecting Tomb of Dracula #24-31 and Giant-Size Dracula #2-4- written by Marv Wolfman, Chris Claremont and David Anthony Kraft; and illustrated by Gene Colan and Don Heck.
---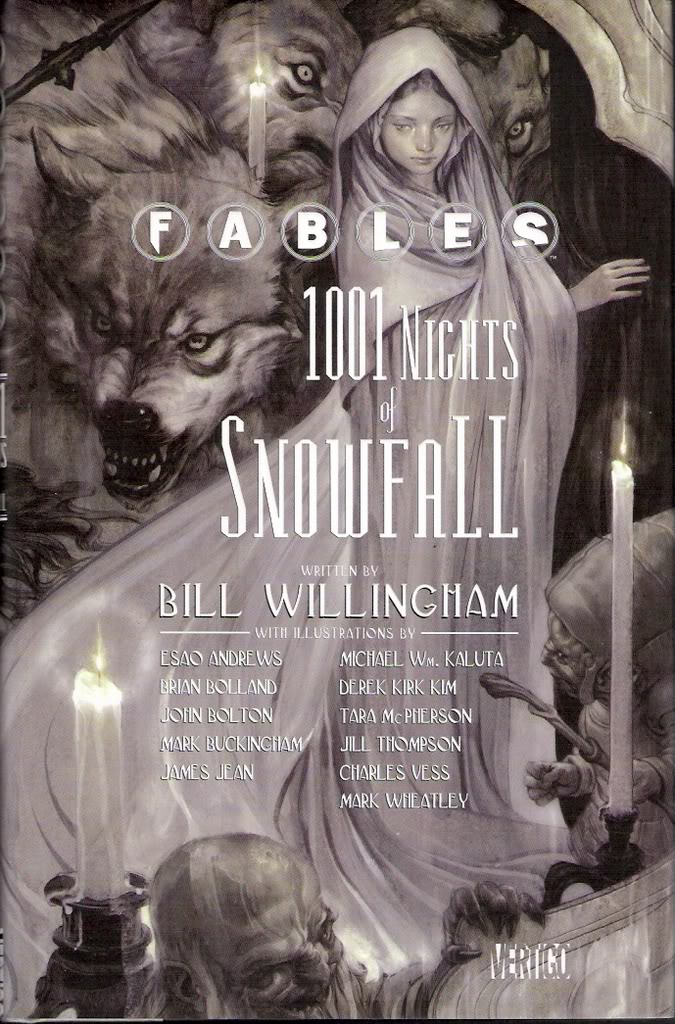 Fables: 1001 Nights of Snowfall
By Bill Willingham with various artists
Price: PhP380.00
Condition: Very good condition, minor shelf wear.
Don't miss a softcover edition of the acclaimed hardcover graphic novel from FABLES creator Bill Willingham and a star-studded array of artists! This volume, set in the early days of Fabletown, long before the FABLES series began, featuring sequences illustrated by Charles Vess, Brian Bolland, John Bolton, Michael Wm. Kaluta, James Jean, Mark Buckingham, Jill Thompson and more, 1,001 NIGHTS OF SNOWFALL is both an entry point to the critically acclaimed series and an essential part of Willingham's enchanting and imaginative FABLES mythos.Traveling in Arabia as an Ambassador from the exiled FABLES community, Snow White is captured by the local sultan who wants to marry her (and then kill her). But the clever Snow attempts to charm the sultan instead by playing Scheherazade, telling him fantastic stories for a total of 1,001 nights. Running the gamut from horror to dark intrigue to mercurial coming-of-age, FABLES:1,001 NIGHTS OF SNOWFALL reveals the secret histories of familiar FABLES characters through a series of compelling and visually illustrative tales.
---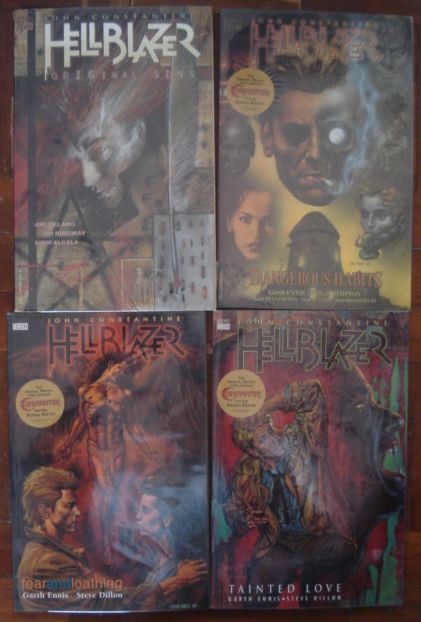 John Constantine, Hellblazer (Set of 4)
Includes:
John Constantine, Hellblazer: Original Sins by Jamie Delano
John Constantine, Hellblazer: Dangerous Habits by Garth Ennis
John Constantine, Hellblazer: Fear and Loathing by Garth Ennis
John Constantine, Hellblazer: Tainted Love by Garth Ennis
Price: PhP800.00
Condition: very good to good+ used/read with plastic cover (taped). Still very solid reading copies.
Original Sins collections several early issues of John Constantine's first break-away from Swamp Thing into his own monthly title. It is here that John obtains his demon's blood from Nergal.
If you want to see where much of the inspiration for the movie came from, Dangerous Habits is the book to read. Centered around Constantine's bout with lung cancer, this is a far darker take on the situation than you will see portrayed in film.
Fear and Loathing gives us more Gabriel than the brief glimpse we get in Dangerous Habits. Gabriel's story here is also a lot less viewing-audience-friendly than it was in the movie.
In Tainted Love John must face a vampire that has stalked the Constantine family for generations and the return of an ex-girlfriend, Kit.
(description via Hellblazer trades dotcom)
---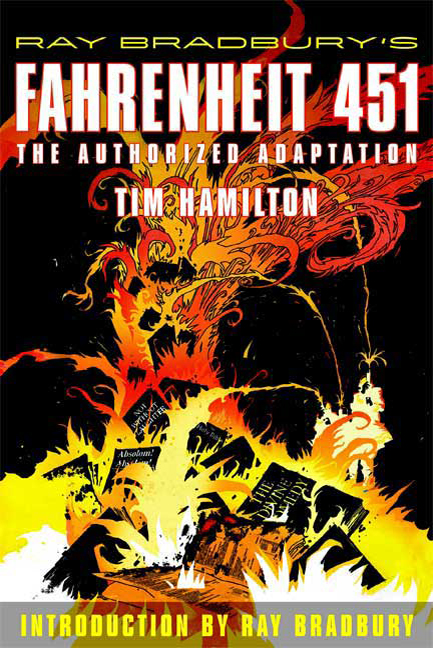 Ray Bradbury's Fahrenheit 451: The Authorized Adaptation (Hardbound)
By Ray Bradbury, Tim Hamilton
Price: PhP300.00
Condition: Hardbound, NO DUSTJACKET (missing), public library stamp on first blank page. Very good condition, minor shelf wear, clean almost like new with no other markings. Image above for reference only, again missing dustjacket.
"Monday burn Millay, Wednesday Whitman, Friday Faulkner, burn 'em to ashes, then burn the ashes."
For Guy Montag, a career fireman for whom kerosene is perfume, this is not just an official slogan. It is a mantra, a duty, a way of life in a tightly monitored world where thinking is dangerous and books are forbidden.
In 1953, Ray Bradbury envisioned one of the world's most unforgettable dystopian futures, and in Ray Bradbury's Fahrenheit 451, the artist Tim Hamilton translates this frightening modern masterpiece into a gorgeously imagined graphic novel. As could only occur with Bradbury's full cooperation in this authorized adaptation, Hamilton has created a striking work of art that uniquely captures Montag's awakening to the evil of government-controlled thought and the inestimable value of philosophy, theology, and literature.
Including an original foreword by Ray Bradbury and fully depicting the brilliance and force of his canonic and beloved masterwork, Ray Bradbury's Fahrenheit 451 is an exceptional, haunting work of graphic literature.
---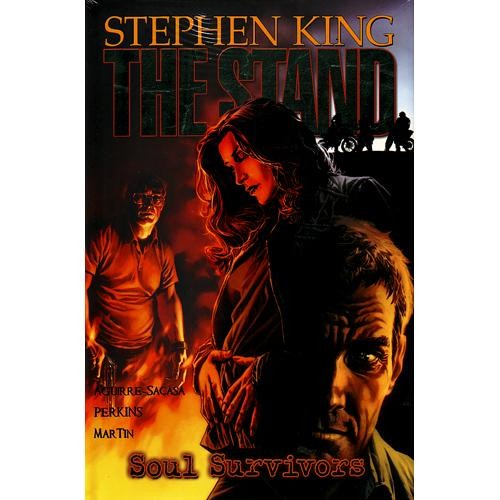 Stephen King's The Stand Vol. 3: Soul Survivors (Hardbound)
By Aguirre-Sacasa, Perkins and Martin
Price: PhP300.00
Condition: Comics hardcover, originally unread overstock copy, minor shelf wear.
M-O-O-N spells the start of the third volume of Marvel's critically acclaimed adaptation of Stephen King's horror epic. Nick Andros has hit the road and teamed up with the child-like Tom Cullen. After the horrors of Captain Trips, a bike trip through Oklahoma and Nebraska sounds like fun, right? Except it's tornado season, True Believers, and not everyone Nick and Tom meet is on the side of the angels. Hell hath no fury like Julie Lawry, another survivor of the plague… Collects The Stand: Soul Survivors #1-5.
---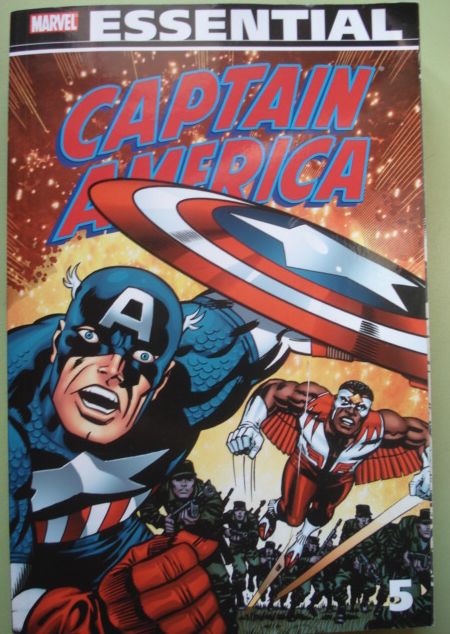 Marvel Essential: Captain America Vol. 5
By Jack Kirby, Marv Wolfman, and more!
Price: PhP350.00
Condition: Originally unread overstock copy, obvious 4-inch closed blade cut on cover (actual image above).
Captain America and the Falcon, two unlikely partners, united in battle against threats domestic, extraterrestial, and extra-dimensional; evil psychiatrists, druids, and scientists; monsters, super villains, and armies; and all the while balancing their love lives with Sharon Carter and Leila Davis! Featuring the threats of the Druid, the Alchemoid, Deadly Nightshade and her robot assassin, Stilt-Man, Dr. Faustus, the Secret Empire, the Night-People, and Agron! Plus, the first appearance of Karla Sofen, the future Moonstone and Ms. Marvel! And the mysterious Mister Buda leads Cap on a tour of the world's wars! Collects Captain America (1968) #187-205, Annual #3, and Marvel Treasury Special: Captain America's Bicentennial Battles.
---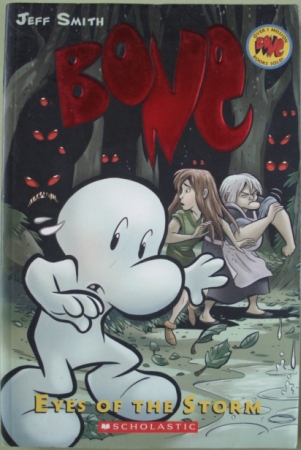 Jeff Smith's Bone Vol. 3: Eyes of the Storm
By Jeff Smith
Price: PhP280.00
Condition: Comics trade paperback, very good condition, minor shelf wear.
In "Eyes of the Storm," book three in the epic BONE series, Gran'ma Ben reveals long-kept secrets about Thorn's royal heritage and the ancient enmities that may lead to war.
In "Eyes of the Storm," volume three of the nine-book BONE saga, Lucius, Smiley, and Phoney survive an attack by the rat creatures and return safely to Lucius' tavern in Barrelhaven. Phoney, desperate to win a bet with Lucius, stokes the townspeople's fear of dragons and boasts that he is a professional dragonslayer.
Back at the farm, Fone Bone and Thorn are troubled by strange dreams, and Gran'ma Ben's reaction to them is stranger still: She reveals long-kept secrets and warns of great danger. Thorn, Fone Bone, and Gran'ma Ben may have to leave the farm forever.
---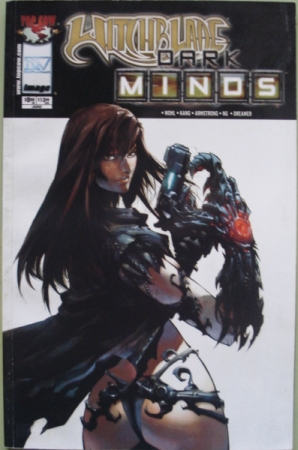 Witchblade/Dark Minds: The Return of Paradox
By Wohl, Kang, Armstrong, Ng, Dreamer
Price: PhP150.00
Condition: Comics trade paperback, very good-good+ condition, minor shelf wear.
Yes, Paradox is back. And when she puts Detective Nagawa's life in danger, Nakiko has nowhere else to turn except…to the Witchblade.
---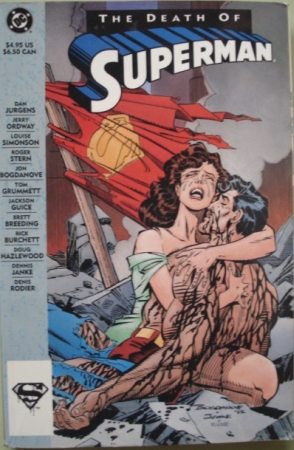 Superman: The Death of Superman
By Dan Jurgens
Price: PhP200.00
Condition: Comics trade paperback, good+ condition, minor shelf wear.
The bestselling edition that tells the staggering story of Superman's demise has been one of DC's best sellers since its release in January, 1992. THE DEATH OF SUPERMAN, the opening volume of the saga of Superman's death and rebirth, introduced the unstoppable death dealer known as Doomsday. Graphic novel format.
---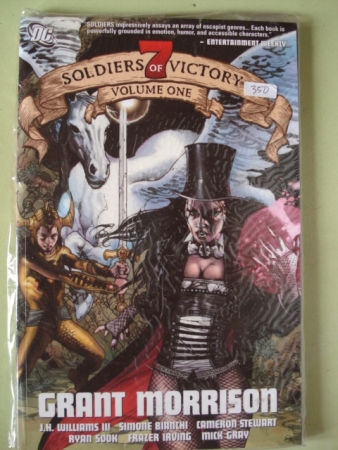 Seven Soldiers of Victory Vol. 1 by Grant Morrison
By Grant Morrison
Price: PhP280.00
Condition: very good, minor shelf wear.
This first volume features the exploits of four of the seven soldiers: the Shining Knight, the Guardian, Zatanna and Klarion the Witchboy!
Independently, each of these characters is featured in a story arc that redefines their purpose in the DC Universe. But their stories also interweave with the other soldiers tales, and tell a grander story of a devastating global threat to mankind. Together these reluctant champions must arise and somehow work together to save the world….without ever meeting one another!
---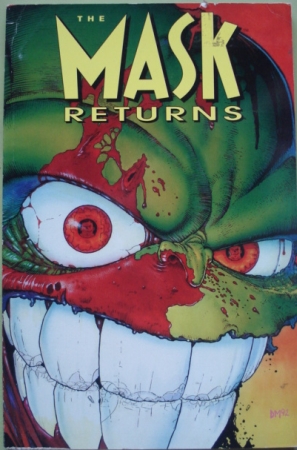 The Mask Returns (Dark Horse Comics Collection)
By John Arcudi, Doug Mahke
Price: PhP200.00
Condition: Comics trade paperback, very good – good+ condition, minor shelf wear, light edge scratches.
It doesn't matter who you are. Once you put on The Mask, you're a homicidal lunatic with a bad taste for bad jokes and seriously deranged violence. And nothing – but nothing – can kill you! When her boyfriend Stanley died, Kathy thought the weird mask had been lost forever. Now gangsters are dying like flies, victims of everything from comic-book bombs to crossbow shafts, and she knows that somehow it's back. Only Kathy can stop the rampage, but first she has to get around the gangwar erupting around her, the new Mask – whoever he is – and the worst bad-guy of all, Walter!
---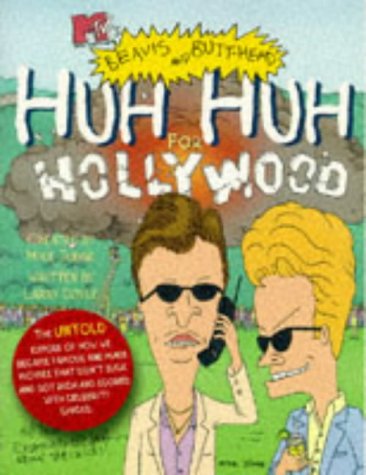 MTV's Beavis and Butt-head: Huh Huh for Hollywood
By Mike Judge, Larry Doyle
Price: PhP180.00
Condition: Comics trade paperback. good+ condition, light blade cut on back cover (1.5″) on a few pages, diagonal closed cut, nothing serious.
America's favorite animated, terminal adolescents will reach new heights of fame when they jump to the big screen in their first-ever motion picture, Beavis & Butt-head Do America. To tie in with this monumental event, Beavis & Butt-head: Huh Huh For Hollywood is, in Butt-head own words, "the untold expose of how we became famous and made movies that didn't suck and got rich and scored with lots of hot celebrity chicks".
---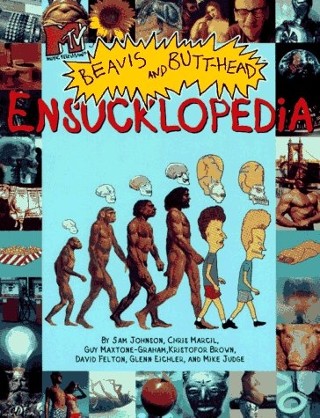 MTV'S Beavis and Butt-head: Ensucklopedia
Price: PhP180.00
Condition: Very good condition, minor shelf wear.
For the MTV generation which put Beavis and Butt-head's first book on the New York Times bestseller list comes a new compilation of unique humor. Beavis and Butt-head give us their view of the world from A to Z in their own version of an encyclopedia–just in time for Christmas. Illustrated.
Comics individual issues, per storyline (loose as set):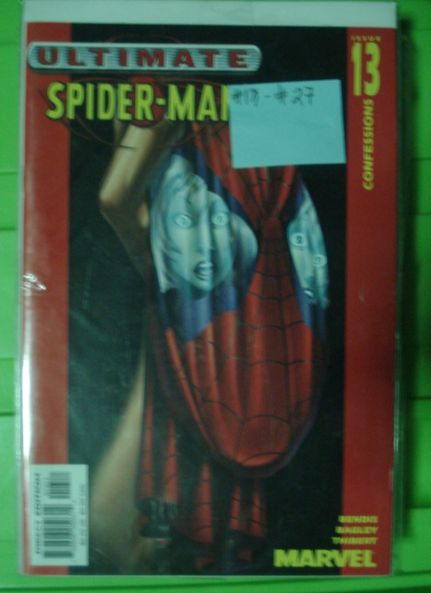 Ultimate Spider-Man #13-27 (Green Goblin)
Price: PhP1,200.00
---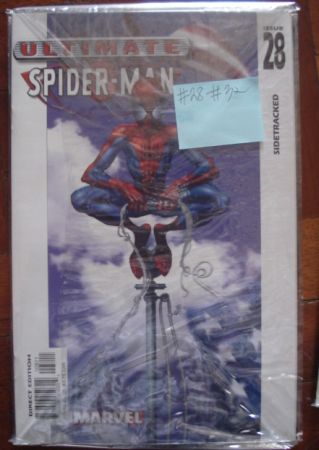 Ultimate Spider-Man #28-32 (Public Scrutiny, Mary Jane)
Price: PhP400.00 
---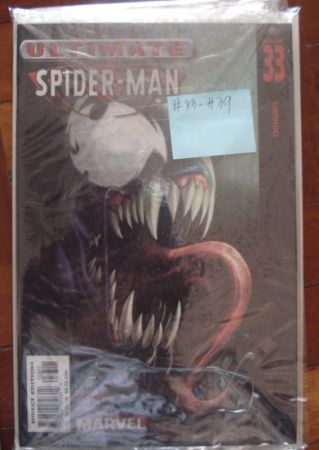 Ultimate Spider-Man #33-39 (Venom)
Price: PhP700.00 
---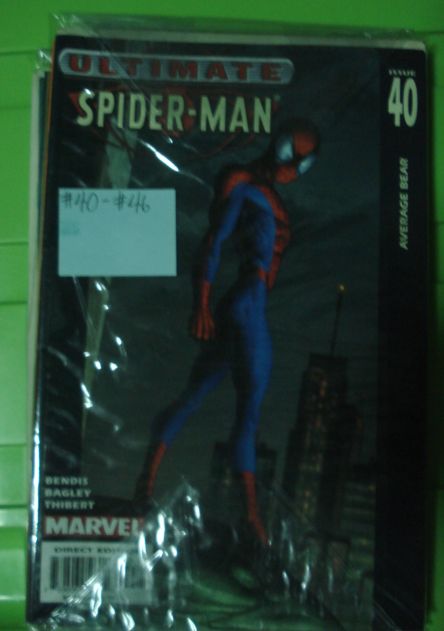 Ultimate Spider-Man #40-46 (X-Men)
Price: PhP550.00 
---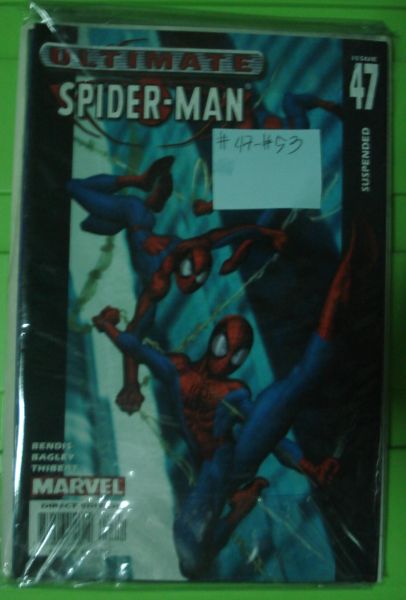 Ultimate Spider-Man #47-53 (Kingpin, Black Cat)
Price: PhP550.00
---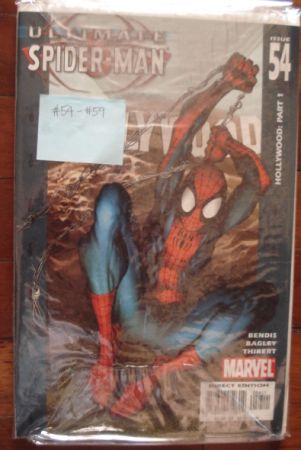 Ultimate Spider-Man #54-59 (Doctor Octopus)
Price: PhP500.00
---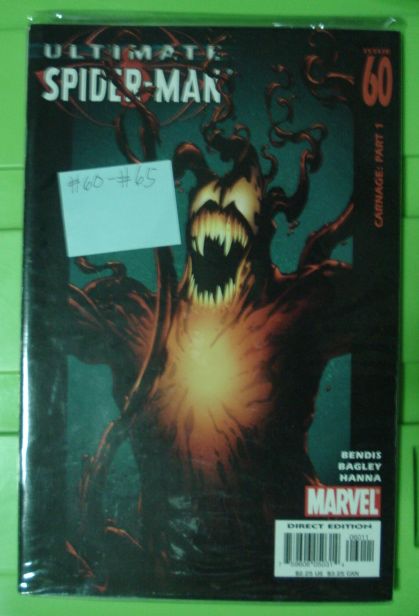 Ultimate Spider-Man #60-65 (Carnage)
Price: PhP500.00 
---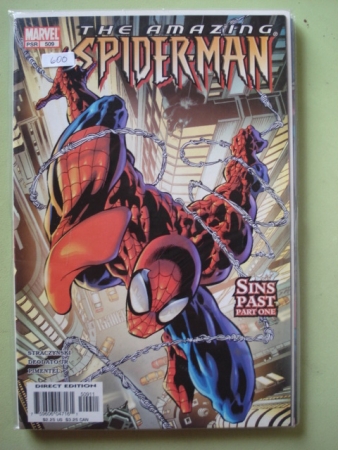 Amazing Spider-Man, Sins Past (#509-514)
By J. Michael Straczynski (Author), Mike Deodato Jr. (Artist)
Price: PhP500.00
---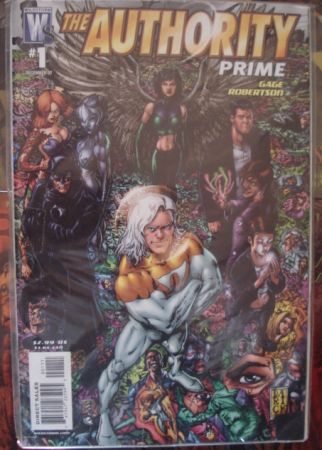 The Authority: Prime (#1-6)
By Gage, Robertson
Price: PhP400.00
StormWatch Prime has finally managed to crack the infamous Henry Bendix's encrypted "memory tower" and located a mysterious bunker hidden the Southwest desert. Knowing that anything springing from Bendix's brilliant, twisted mind could prove either invaluable or catastrophic, they immediately head for the bunker. But The Authority are watching, too, and want what's in the bunker for themselves.
---
Thank you for browsing! Be sure to check our Avalon.ph Comics/Graphic Novel category for other titles.