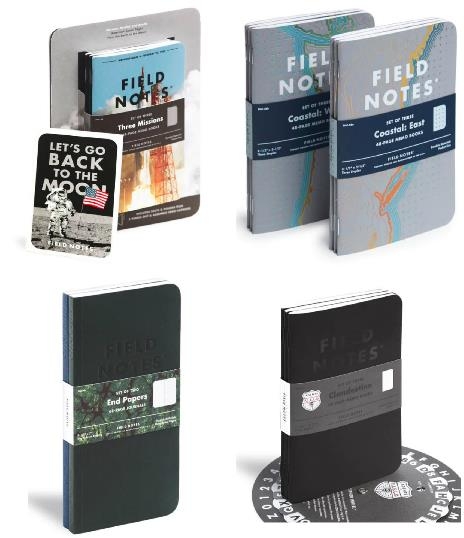 The Field Notes 2018 limited editions are now available for purchase on our website.
Field Notes Coastal (East and West), Spring 2018
features two 3-Packs of Memo Books, separated by 2,800 miles. The "Coastal" Edition is a celebration of the left and right edges of the U.S.A.
Field Notes Three Missions, Summer 2018
Summer Release celebrates American space flight with Mercury, Gemini, and Apollo Memo Books and "Punch Out and Assemble" Crew Capsule Models.
Field Notes End Papers, Fall 2018
Fall Release is a 2-Pack of Journals sporting a new profile, marbled End Papers and Smyth-sewn bindings.
Field Notes Clandestine, Winter 2018
There's a lot more than meets the eye to this edition. It's all about secret codes and ciphers and features a 3-part history of cryptography. Note: Retail edition does not include the "Cipher Wheel."