Hi all,
New books posted, auction items ending Thursday, 7 Feb 2008 around noontime.
Unsorted: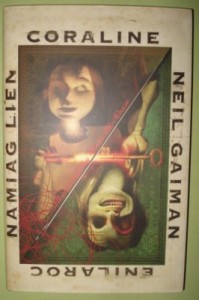 LIMITED 1/1000 Coraline signed by Neil Gaiman /Dave McKean
Iron Chef: The Official Book (2004)
Traveler's Tales: The Road Within
More Wandering Stars: Anthology of Jewish Fantasy & SF
The Meaning of It All by Richard Feynman
Who Will Run the Frog Hospital? by Lorrie Moore
The Other Boleyn Girl by Philippa Gregory
Men on Men 6: Best New Gay Fiction
Kitchen Confidential by Anthony Bourdain
Parallel Universes: The Search for Other Worlds by Fred Wolf
The Giving Tree by Shel Silverstein (HB, no DJ)
The Second Chronicles of Thomas Covenant -PB Set 1-3
Those Barren Leaves by Aldous Huxley
Adventures in Time & Space (Asimov, Heinlein, 1,000pp!)
Politically Correct Bedtime Stories by Garner (HB)
Paris to the Moon by Adam Gopnik (UK)
The World in Us: Lesbian and Gay Poetry of the Next Wave
Franz Kafka: Diaries 1910-1913
Beggars in Spain by Nancy Kress (Hugo & Nebula Award Winner)
Don't Know Much About the Bible by Kenneth Davis
The Next Fifty Years: New Essays from 25 Scientists (2002)
Man Walks into a Room by Nicole Krauss (History of Love)
Vintage Sacks (Oliver Sacks)
Vintage Cisneros (Sandra Cisneros)
The Necklace and Other Tales by Guy de Maupassant
Prozac Nation by Elizabeth Wurtzel
Immortality by Milan Kundera
The Penguin Dictionary of Nineteenth-Century History
Triumph of the Straight Dope by Cecil Adams (Trivia)
A Heartbreaking Work of Staggering Genius by Dave Eggers
Greek Fire, Poison Arrows & Scorpion Bombs (Ancient Warfare)
Complete The Wheel of Time + Prequel Set! Read!!
Bored of the Rings by The Harvard Lampoon (Parody)
Thanks!
Jasper
www.avalon.ph