Hi all,
New titles posted for auction, including a hard-to-find hardbound graphic novel of Dave McKean- Cages. This book now out-of-print and very hard-to-find (and expensive).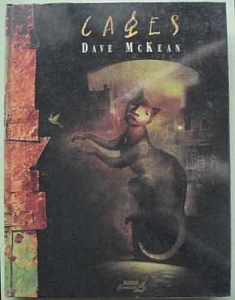 By mid-June typing www.avalon.ph on your browser will direct you to the shopping site.  For now here's the list of auction items posted, ending Friday, 30 May 2008:
RARE! Cages by Dave McKean (Hardbound Complete!)
The Prince by Niccolo Machiavelli (Borders Classics)
The Mammoth Book of Sex Diaries: Sex Blogs
Fantastic Tales by I.U. Tarchetti (Hardbound)
The Ultimate Encyclopedia of Fantasy (HUGE!! Hardbound)
The Best American Poetry 1994 (A.R. Ammons)
The Year's Best Fantasy and Horror: Sixteenth Annual
Omni: Best Science Fiction Two (Edited by Ellen Datlow)
Conspiracy Files: Paranoia Secrecy Intrigue (HB)
Wanderlust by Troy M. Litten (Photography)
The Illustrated Guide to Witchcraft (HB)
Voodoo: Secret Power in Africa (Hardbound, Taschen)
i  six nonlectures by E.E. Cummings
Amulets: Sacred Charms of Power & Protection by Sheila Paine
Postcards from the Basque Country (HB)
The Dictionary of Uncomfortable Words (HB)
The Harper Hall Trilogy by Anne McCaffrey (Pocketbook 1-3)
Iron Chef: The Official Book (2004)
Lot of 4 The X-Files book
The Year's Best Fantasy and Horror: Eighth Annual Collection
Buried Fire by Jonathan Stroud
Saffron and Brimstone: Strange Stories by Elizabeth Hand
The Best of the Best American Poetry 1988-1997
Paris Out of Hand: A Wayward Guide (HB/ Gordon, Bantock)
The Saint of Dragons by Jason Hightman (Pocketbook)
The Probable Future by Alice Hoffman
Anansi Boys by Neil Gaiman (Original Audio CD, Sealed)
100 Great Problems of Elementary Mathematics
Book Finds: How to Find, Buy & Sell Used & Rare Books
The Boss's Survival Guide
The Book of Answers (New York Public Library)
All About Love: New Visions by Bell Hooks
Junk English 2 by Ken Smith
How to Think Like Einstein by Scott Thorpe (Hardbound)
DNA For Beginners (Comic Book Form)
The Story of Rock: Smash Hits and Superstars
Sea Room: An Island Life in the Hebrides by Adam Nicolson
The Kingdom by the Sea by Paul Theroux
Down Under by Bill Bryson
A Traveller's History of Oxford by Richard Tames
Simon & Schuster's Guide to Fresh & Marine Aquarium Fishes
The Incredible Potato Cookbook (150 recipes…)
Sweet and Savory Sauces (Hardbound)
==================
Shopping Site Updates:
Still doing some minor configuration settings but orders are already being processed without any issues.  More announcements will be made on features such as the Tell-A-Friend Reward Points and Gift Registry.  Check out the Avalon.ph blog for the freshest updates (https://blog.avalon.ph).
The direct link to the shopping site is:
Discount Coupons!  Enter the codes upon checkout.  Valid until 01 June 2008.  Payment must be made within a reasonable timeline or discounts will be voided.
Enter '10off' – Get a 10% discount on purchases above P1,000.00. This applies on Fiction and Non-Fiction books.
Enter 'RRLARGE' – Get a 15% discount on Moleskine Large Ruled Reporter Notebooks!
Here are new titles posted on the shopping site:
I Shudder At Your Touch: 22 Tales of Sex & Horror (HB)
How to Cook by Raymond Sokolov (Revised Edition)
The Hedonism Handbook: Mastering the Lost Arts of Leisure & Pleasure
The Curious Incident of the Dog in the Night-Time (HB 1st/1st)
Choice Cuts: A Savory Selection of Food Writing.. (HB)
Legends: New Short Novels (King, Pratchett, Martin/ HB)
Assassin!: The Deadly Art of the Cult of Assassins
Do Elephants Jump? Imponderables by David Feldman (HB)
When Do Fish Sleep? by David Feldman (Imponderables Book)
Blink: Power of Thinking Without Thinking by Gladwell (HB)
Innocent Erendira and other stories by Gabriel Garcia Marquez
Encyclopedia of Hell by Miriam Van Scott
The Rincewind Trilogy by Terry Pratchett (Omnibus HB 5 9 18)
The Fifth Elephant by Terry Pratchett (HB, Discworld 24)
Thief of Time by Terry Pratchett (HB, Discworld 26)
Night Watch by Terry Pratchett (HB, Discworld 27)
Monstrous Regiment by Terry Pratchett (HB, Discworld 28)
Wintersmith by Terry Pratchett (Hardbound)
The Amazing Maurice & his Educated Rodents by Pratchett (HB)
The Last Hero by Terry Pratchett (Hardbound, UK)
When Will Jesus Bring the Pork Chops? by George Carlin
Mutants: On Genetic Variety and the Human Body
You Shall Know Our Velocity! by Dave Eggers
Endless Feasts: Sixty Years of Writing from Gourmet
Brilliant Food Tips and Cooking Tricks
Happy shopping!
Jasper
www.avalon.ph