Welcome to the new look of Avalon.ph!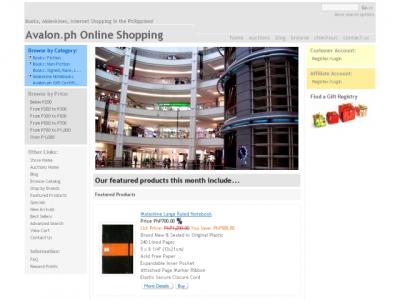 The website is now integrated with a full-featured shopping cart.  The new 'version' will offer a unique online shopping experience while rewarding customer loyalty through Avalon Gems (Reward Points) and other special bonuses.
What's new with Avalon.ph?
– Product Bundle Offerings.  Interested to get product A?  The item might offer another product/s for 10%-20% discount or more!
– Relevant Cross-Selling.  If you like product A, we also recommend product B, C, and D. We will only recommend items that are truly relevant or purchased by other customers in the past.
– Discount Coupons.  Occasionally, Avalon.ph will offer coupons such as free shipping, discounts on price, discounts on quantity and more!
– Product Reviews.  You may submit or read product reviews by users of Avalon.ph.  Check out the recommendations before purchasing.
– Create a Gift Registry.  Take advantage of Avalon.ph's newest feature allowing your friends or family to view what items you want for any occasion (or non-occasion).  You may even publicly display your gift registry through a link.
– Purchase a Gift Certificate. Can't decide what to give someone?  Buy a Gift Certificate for a friend or family member!
– Affiliate Commissions.  Be an affiliate of Avalon.ph and earn commissions from referrals (commissions as in cash, not reward points).  As long as you can insert a javascript on your webpage/blog sidebar, you can qualify to have a window of Avalon.ph items displayed on your site.  To see an example please view the right sidebar of this blog.
– Avalon Gems (Reward Points). Earn points while making purchases or referring other customers (that successfully made a purchase), then redeem points for discounts.  Currently, 100 Reward Points is equal to Php10.00.
– Referral Points (Through Tell-A-Friend).  You do not have to be an affiliate of Avalon.ph to earn referral points.  Just click on the Tell-A-Friend link (make sure you are logged-in), and once the customer made a successful purchase on his visit (on THAT particular visit), you will earn points!
– Gift wrapping options.  Let us package your item/s before shipping!
– Be an Avalon.ph Supplier.  Avalon.ph is now capable of arranging a drop-ship/supplier arrangement with merchants.  This is still in development but you can now open your own 'brand shop' within Avalon.ph.  Excellent extension of your website or multiply.com store!  Take advantage of the impressions and purchasing power of users who browse on Avalon.ph.  Remember that many users come to Avalon.ph to buy!  For inquiries please e-mail me: support _at_ avalon dot ph (anti-spam).
– Digital or Downloadable products.  Now, the website can sell electronically (legal) products securely.  If you are a supplier, you can market your original music, images or other applications.
– AJAX enhanced shopping features. Information is presented to you without the 'click & wait' that is normally part of every Web page.  Just hover your mouse over the item and view product information without even having to visit the product details page.
Due to a difference in the product database, users are encouraged to re-register ONLY on the shopping website.  If you prefer that I just import your details send Avalon.ph auction site username and request to: support _at_ avalon dot ph (anti-spam).   A new password will be e-mailed to you… however…
NEW user registrations (not through import) on the shopping site before 15 May 2008 will earn 100 bonus reward points.  This will be applied within 12-24 hours after you registration.
More details to follow!
Jasper
www.avalon.ph