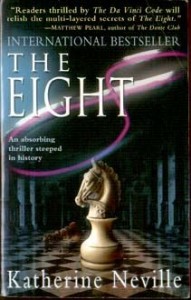 From Katherine Neville's website:
"The Ballantine Publishing Group is celebrating the 20th anniversary of Katherine Neville's international bestseller THE EIGHT. From August 8th thru August 18th you can download a FREE PDF version of THE EIGHT…"
View the link for download: http://www.katherineneville.com/neville-news.htm
I strongly recommend this book especially if you like Dan Brown and Umberto Eco thrillers.  You won't be disappointed.
Download it from the link above, or you may decide to purchase your own copy.
Thanks to user empirialist of Shelfari for the link.