infinity less than three presented us with a contest where each entry is to write a one-sentence-story using the words: inconceivable, notebook, escritoire, snow, and midsummer.
Congratulations to Tiffany Chua for winning a brand new Moleskine Notebook!  Here is her randomly selected winning entry:
"Snow in midsummer is inconceivable if you're living in the real world,??? Eva grinned mischievously as she was writing it in her notebook while being seated in her escritoire. — Tiffany Chua
Special mention to Rachel Teng for winning Mia Sereno's inked illustration commission!:
It was an artist's death: notebook in his hand, pen poised over a blood-stained page, unfinished masterpiece written down – "Falling is like??? – the last words trailing off in a hurried, illegible scribble. — Rachel Teng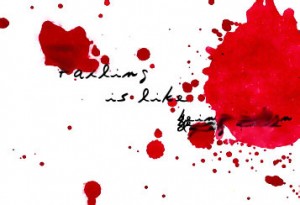 On to our third participating site and another chance to win a Moleskine Notebook!:
Win a Moleskine Notebook! on kikay exchange.
Don't forget to check out their own set of rules and other information.
Also, check out the pre-contest page on Article Marketing at Viloria.net to increase your chances of winning! Their contest period is 18 Nov – 21 Nov, 2008
Good luck!