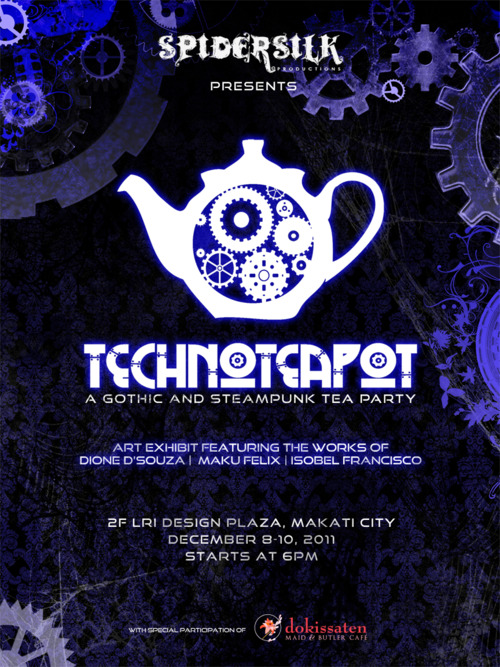 Art Exhibit Featuring the Works of
Dione D'Souza | Maku Felix | Isobel Francisco
With the Special Participation of Dokissaten Maid & Butler Café
Featuring the Live Performance of Similarobjects
and DR. SKETCHY'S Anti-Art School Manila
December 8-10, 2011
LRI Design Plaza, 2nd Flr, Nicanor Garcia St., Makati City
For more details, visit their Facebook Event page here.
—
Greetings. We are SPIDERSILK PRODUCTIONS, a trio of feisty and
fearless arachnids ready to make our debut on December 8 to 10, 2011 at LRI DESIGN PLAZA, Makati City.
More than an exhibit, TECHNOTEAPOT is a glamorous tea party that features live performances, stylized refreshments, exclusive works and merchandise from talented partners and participants, and elegant service courtesy of the events company Dokissaten Maid & Butler Café.
With this special event, we intend to reveal our various works of art, and also the talents of other wonderful individuals coming together, to bring to life the gothic and steampunk glory as they envision it.
We wish to formally invite you to our night of magic and spectacle. Dressing up for the occasion is highly encouraged, and surprises await those most faithful to the theme.
[ADMISSION IS FREE]
—
Avalon.ph will be there showcasing our various novelty products like Oracle cards, Moleskine, Fashionary and others. Drop by and say hi!