I seldom source out classic works of literature because they are easily available in local bookstores.  However, I just have to get this set- The Midpoint Press Limited Edition series.  Soon for sale.  See for yourself why.
Here are images of the books in stock right now: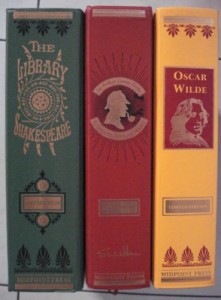 The Illustrated Library: Shakespeare
The Works of Oscar Wilde
The Original Illustrated Strand Sherlock Holmes
Hard-to-find hardcover, all in limited edition. Over 1100 pages, special antique-cream paper. Size 12.0″x9.5″. Bound in full cloth, foil-blocked cover and front board. Gilt edged pages.  Just beautiful.